Click on any of the above links to get to other pages of the website.
To know if you've got the right Jon, I grew up in Jamesburg, NJ and then went to Kansas State University, got a degree in Physics and Mechanical Engineering. I then taught engineering for many years there. I enjoy backpacking, canoeing, dancing and sailing. My Ham radio call sign is n0ryq.
I enjoy anything outdoors. Backpacking, canoeing, and traveling are tops on the list. I've got a B.S in physics and a M.S. in Mech. Engg., A PhD is just about done. My university research involved fiberglass highway bridges. My work has often won International recognition. In the past I've done work on grain dust explosions and designed gloves for the NASA space suit. I've taught engineering at Kansas State University for many years. Mechanical Engineering for most of my career and then one class in Electrical Engineering each spring for the last few. If I wasn't working I was travelling and enjoying life. Now enrollments are down and I'm on an extended leave, full time play, my choice. It's good for me and the dept. I'm on call if they need me. Most everything I've got is paid for now, so money is not a real problem. I can't say I've got lots, but enough. Time is what is always short, and I've always done what I could to maximize the utilization of my free time. My plan now are to sail around the world for many years.

I grew up in Monroe township and went to high school in nearby Jamesburg in central New Jersey. I wnt to Kansas to go to college and now own a 20 acre farm near Tuttle Creek Lake just north of Manhattan, Kansas. Relocation is not out of the question. I know I can be happy just about anywhere, But it would be hard to leave what I've got here, good job flexibility, great location, big lake, lots of trees, deer munching my flowers in the yard (oftentimes really good comes with some bad), wild turkeys in the woods (most of the rest of the "Turkeys" live 10 miles away in town :-), good pasture, no mortgage, and it's been home for more than a few years.


I've got much more information about my life and activities on my other website
such as my new unique testing grading system (easy and fast to grade, 1/5 of the time, students like it, I like it, students learn more) My first sailing trips, my Alaska trips, and the ongoing story about my brothers underground 2 story concrete house we've been building for 10 years.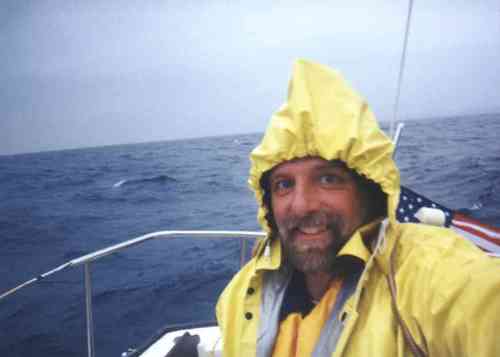 I've spent a lot of time recently with sailboats. First a 30 footer from Ohio to Florida, then a 38 footer from Mobile to Florida and now I just bought a 45 footer. Sometime soon heading to the Bahamas or the Yucatan, then maybe Maine, Nova Scotia and beyond.
I'm single, I know most people don't want a long distance relationship, I'm no different, I'd love to find someone local but haven't yet. I have singles ads on the net and and meet lots of great people but not that special one that is different enough to accept one as different as me. If you think you might be one or know one, give me a shout, it can't hurt, you can never have too many friends. Obviously I love to travel, I could easily spend some time in your area if we find we really needed to get to know each other.
I have owned horses, have all the tack, really enjoyed riding when there's a purpose like herding or packing somewhere, but I'd much rather feed a motorcycle in the winter. :) A couple years ago I spent three months in Alaska, backpacking, canoeing, kayaking, mountain biking etc. Then I went back for another month in the late fall, early winter. My sister was living up there at the time, and I helped move her and her two children to Minneapolis. Traveling 4000 miles in 8 days with a 1 and a 3 year old, I learned a lot. I still want kids. I love to dance, mostly CW (two step, waltz, western swing, polka, etc.), travel and enjoy life. I'm great with kids, I have none and do want some, life isn't complete without them.
When I was married I didn't have any problem staying around home and working on hobbies but now, since I can, I spend a lot of time traveling, normally on a budget, travel by car, taking along some toys like kayaks, bicycles and snowshoes. I'm to shy to walk up and say "Hi" in a grocery store to find out if it's really YOU. I enjoy museums. I own timeshares on the outer banks, NC and Orlando, Fl., that I can trade for places in Paris or Aruba. It would be great to find someone who also has the ability and mindset to join me in continued travel but I do understand that kids and responsibility can come first. I'd love to have that responsibility. I definitely want kids, adoption or a surrogate mom is a possibility, but I'm not going to do it alone, it's family that's important. I think common interest and activity level is much more important then age. You're only as old as you feel. I don't smoke, I drink socially. I'm planning on staying young for a long time. Would you like to stay young with me?
Some people think I have far too many hobbies, they just haven't learned what's important in life. Some of the more sedate things that I enjoy include watercolor painting, photography, astronomy, books, reading, learning, winemaking, telling jokes, flower and vegetable gardening, cards and games, both physical and mental, automobile restoration and amateur radio, n0ryq. I just started playing with origami. I collect all sorts of things, am interested in just about everything. I'm very intelligent, both in a practical and intellectual sense. I really enjoy yardsales, and other bargain hunting, and love to build and fix just about anything.
Science is mostly my religion. I was brought up with church as an important part of my life. I do believe in God because science doesn't explain everything. I live by the golden rule and wish everybody else did. I do believe that church does play an important role in raising children. I just have problems with accepting organized religions and the fact that most of them are intolerant of other religions. I'd like to bicycle with packs for a month. I've done it on my motorcycle. Sailing the Caribbean would be fun, maybe even the world. How about canoeing the Erie Canal? Or hiking the Pacific Crest Trail? Or Machu Picchu? It doesn't make too much difference what I do as long as there's somebody like YOU to do it with. My ads say that I'm 41, but really I'm 51, I hate to lie but the right women don't find me and having kids is too important to not lie. When I had the ad at 50 I spent all my time telling older women that I really do want kids, this cuts that down a little. Really I'm 38 with 12 years experience, (I'm like a well maintained 15 yr old Lincoln Mk7, which just happens to be what I drive, when I'm not driving one of my sports cars or Pickups, economical, sporty, and stylish in a classy package.) Normally wear jeans and a western shirt, cowboy or hiking boots. They tell me I have great eyes (blue); there's lots of feeling in them. My wants and activity put me right in the mid 30's; I'm stuck there (not a bad thing) till I find someone to enjoy kids and the rest of our life with. I believe in friends first, that's important.
I was married for 9 years, now divorced for 14. My ex and I had different opinions when it came to money, she didn't want kids, she decided to give me another chance. We were more like brother and sister instead of husband and wife. Humor is important, Non smoking is a must; it goes with caring for yourself first. I believe in forgiveness, life is too short to waste it being mad. I'm one of the most honest people you'll ever meet, and I expect honesty from my partner (you can lie about surprise parties and such). It's the only way to build any relationship. It's probably why I'm still friends with just about every woman I've ever dated. --- Jon Held n0ryq at juno dot com (the 2nd character is a zero not cap O)
Send an email
I've recently bought a larger sailboat, a 45 foot steel ketch, and maybe planning a trip around the world, first will be a shakedown for a couple months around the Bahamas, then after a month or so back in Florida making all the changes I've deemed necessary, up the east coast to Nova Scotia. If things are still going good, maybe a right turn and head for the Mediterranean. All this because I bought a 13 foot sailboat for $45 at a yard sale while I was in school and then came up with a dream of sailing my own boat to the Caribbean. Dreams, what would life be without them, if you stop dreaming you might as well stop breathing.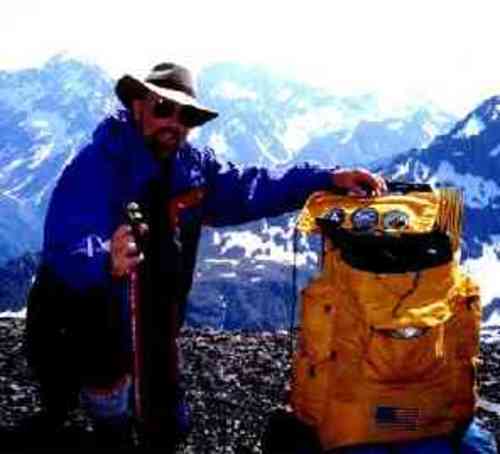 At the top of the World in Alaska


If it's outdoors I've probably got the equipment, enjoy it and have done it

-jheld jheldat jon j held jjheld jon held mtbkpkr jheldatksu jheldatksuedu n0ryq jheldat

This section is some of my other handles. jheld jheldat jon j held jjheld jon held mtbkpkr jheldatksu jheldatksuedu n0ryq jheldat

I hope that his helps people find me with google if they search one of these names.

jheld jheldat jon j held jjheld jon held mtbkpkr jheldatksu jheldatksuedu n0ryq jheldat


Send an email